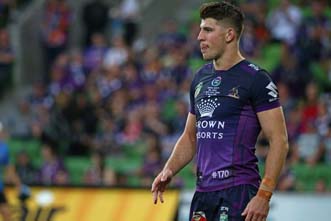 Sam Ayoub's client Curtis Scott has gone from having thoughts on pulling the pin on this season to returning for the Melbourne Storm and now being picked for his first Prime Minister's XIII team.
Christian Nicolussi of The Sydney Morning Herald tells this story,
Scott is expected to be groomed for Meninga's under-23s Kangaroos team to play France in a curtain-raiser to Australia's Test against New Zealand in Wollongong at the end of next month.
He has two years remaining on his deal at the Storm but is expected to receive little resistance should he find a deal back with a Sydney club and somewhere closer to his support network.
Read more here
Comments are closed.